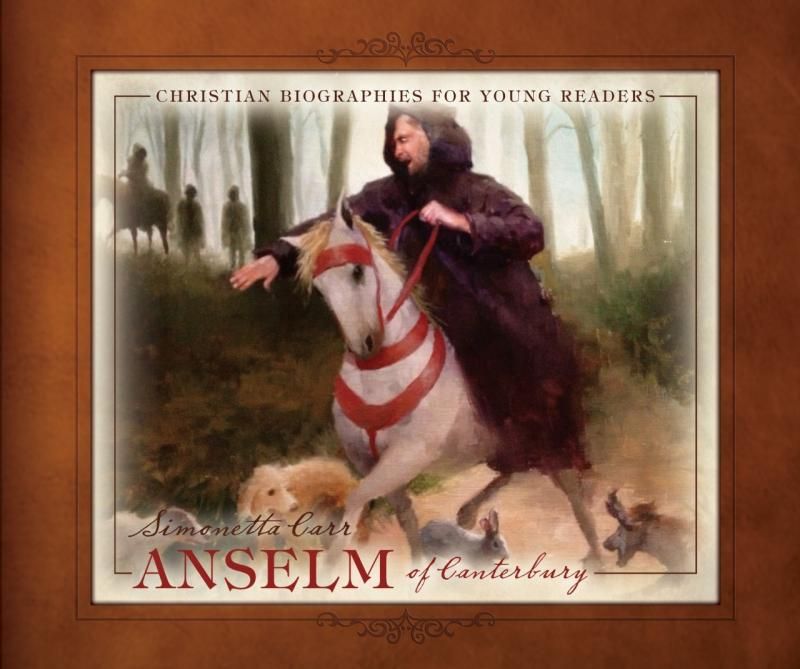 Anselm of Canterbury is Simonetta Carr's latest Christian biography for young readers. Published by Reformation Heritage Books, this volume is the sixth addition to a series written to introduce children to historical figures whose life and influence God has used mightily in the unfolding of His-Story.
Carr's previous books (John Calvin, Augustine of Hippo, John Owen, Athanasius, & Lady Jane Grey) engaged readers with stirring illustrations and beautiful prose interwoven to create a captivating story that both educates and edifies its readers. Anselm of Canterbury is no exception.
Anselm of Canterbury, as introduced by Carr, was a man who loved to think about God and strove to understand Him better. His question, "Why did God become man?", and subsequent thoughts in answer to this pivotal question, was instrumental to the church and Christendom.
Carr's book traces the life of Anselm from his youth to his work as a monk in the monastery at Bec, and finally as archbishop of Canterbury. Anselm's life intersects with popes and kings and although he wished for a quiet life to study and mediate on the Word of God, Anselm learns to faithfully and without complaint fulfill the work God called him to do.
O Lord, I acknowledge and give thanks that Thou hast created me in Thine image so that I may remember Thee, think deeply about Thee, and love Thee; but that image has been so ruined and worn out by vices and darkened by the smoke of wrongdoing that it cannot accomplish that for which it was made, unless Thou renewest it and recreate it. I don't try, O Lord, to understand Thy greatness, because I could never compare my understanding with that; but I desire to understand to a certain point Thy truth, which my heart believes and loves. I don't try to understand so that I may believe, but I believe so that I may understand. For I believe even this: that I shall not understand unless I believe.

— from Prosologion, chapter 1
Anselm of Canterbury, as well as the aforementioned titles in the Christian Biographies for Young Readers series, is a thoroughly beautifully illustrated and informative work. True knowledge begins with the fear of the LORD and as Christians we would be amiss to remain willfully ignorant of the contributions of godly individuals and their impact on both the church and history in which the hand of our Sovereign God has been so prevalent.
Children and adults alike will enjoy Anselm of Canterbury and I cannot recommend enough this book and its companions in this biographical series. By studying the past we are able to see more clearly the hand of God in all of history and His continuing Providence in the present. Simonetta Carr brings this concept home beautifully.
——————————————————–
Reformation Heritage Books provided a copy of this book for my review. All opinions are my own.