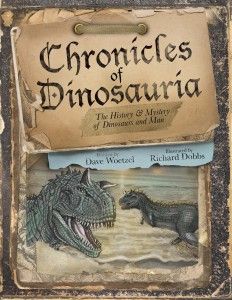 Chronicles of Dinosauria: The History & Mystery of Dinosaurs and Man is a new book from Master Books, a division of New Leaf Publishing Group. Written by David Woetzel (more popularly known as "Dino Dave") and illustrated by Richard Dobbs, Dinosauria in an intriguing collection of historical and scientific evidence for the coexistence of man and dinosaur.
Author David Woetzel lays out five distinctions of categorical evidence to persuade his readers of the truth of his claims that man and dinosaur walked together. These are: biblical, historical, artistic, fossil, and cryptozoology (Woetzel states cryptozoology involves researching reports of animals that have yet to be proven to exist.).
The chapters are divided as follows:
Chapter 1- The Creation and Dinosaurs
Chapter 2- The Flood and Dinosaurs
Chapter 3- Fossil Evidence of Dinosaurs and Man
Chapter 4- Historical Evidence of Dinosaurs and Man
Chapter 5- Artistic Evidence of Dinosaurs and Man
Chapter 6- Cryptozoology Evidence of Dinosaurs and Man
Chapter 7- Biblical Evidence of Dinosaurs and Man
Chapter 8- Apologetics and Conclusion
Richard Dobbs has done a phenomenal job illustrating this book and the layout is likened to that of a scrapbook, interwoven with eye catching illustrations and interesting pictures. The text itself is broken down into easy selections allowing the reader the ability to read the book in its entirety or just a certain passage without need to read previous selections in order to comprehend the text.
Dinosauria begins with the premise that the Word of God is true and rather than attempting to reinterpret Scripture to fit "science", it beautifully shows how faithful the testimony of the unchanging standard of the Word of God truly is.
Those who enjoy learning about the place dinosaurs have in God's creation will appreciate the content of this beautiful book. It is a book to be savored time and again, to be devoured by curious children, and to be enjoyed together as a family.
The day I received this copy of Dinosauria, my ten-year-old son conveniently swiped this book even before I had a chance to glance at it. I believe this book will capture the attention of young and old alike. It is exquisite, informative, and written so that a young child will be taken by it yet digested by adults for its content and knowledge.
Publisher's Description:
Explore legends, mythical sightings, and intriguing explorations from around the globe!
Enjoy the unique combination of visual illustrations and unforgettable accounts.
Discover why the author calls into question what we've been taught to believe and understand about the history of dinosaurs and man.
Every legend is said to include some grain of truth, and for years co-author Dave Woetzel has sought to separate fact from fiction as he explores mysteries related to dinosaurs, mankind's history, and the biblical time-line. Teaming with artist and designer Richard Dobbs, the two have created a visual archive of expeditions and intriguing clues to explore, all of which highlight the connection to the authority and reliability of Scripture.
Provocative artifacts from around the world are examined in an exquisite, full-color book that hints at man's familiarity with living dinosaurs. Studies point to more than simple answers beneath the waves of Loch Ness, and other sites around the world, many investigated personally by the author. Here is the study of cryptozoology and the discoveries that seem to defy all evolutionary time-lines, vividly illustrated and filled with rare photos.

Disclaimer: I received a copy of Chronicles of Dinosauria: The History & Mystery of Dinosaurs and Man for review. All opinions are my own.