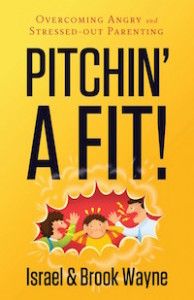 Pitchin' A Fit!: Overcoming Angry and Stressed-Out Parenting
It is the great duty of all Christians to put off anger. It unfits for duty…A man cannot wrestle with God and wrangle with his neighbor at the same time. Short sins often cost us long and sad sorrows.
Phillip Henry
Anger has become somewhat of a "respectable sin." It is prevalent in our homes, even homes professing the name of Christ. But what we so often fail to realize is that anger is a serious sin, a sin often rooted in pride, selfishness, and self-righteousness. Its roots are deeply seated, complex, and difficult for the flesh to mortify. Its effects are poisonous and deadly. In the words of John Owen, "Do you mortify; do you make it your daily work; be always at it whilst you live; cease not a day from this work; be killing sin or it will be killing you."
Israel and Brook Wayne, in their book, Pitchin' A Fit!: Overcoming Angry and Stressed-Out Parenting, gives their readers the tools to take seriously the sin of anger especially as it deals with parenting. As Christians we are called to live out a consistent biblical worldview and apply the principles of God's Word daily in all areas of our lives. As parents, what better way than to begin with the children God has entrusted us to bring up in the nurture and admonition of the LORD?! Anger and its bitter companions have no place in the lives of those seeking to glorify God in all things.
What I enjoy most about the writing style of the Waynes is that it is easy to understand, is very practical, and reads as if you're conversing with a good friend. At the end of each chapter, there are a few questions given to the reader to reflect upon, applying the insights of the authors to our own lives. I also greatly appreciate the Scripture woven throughout and the experience and failings of the authors' own struggle with anger. I am able to identify the sin of anger and its companions in my own life and the hope of mortifying such sin only by the changing power of the Holy Spirit.
Anger is such a prevailing force, creeping in unaware. It is the fuel to a multitude of sin, consuming and burning. Israel and Brook Wayne lovingly guide readers to acknowledge the sin in their lives and understand where it is most triggered. The root causes of anger are identified and fleshed out so that the reader can be made aware of the sin crouching at the door. The remedy, the hope for vanquishing such a foe are ready made by the Spirit of God and by putting on the patience given in grace. Patience born only of God, and not by the rotten fruit of the flesh will move us to put aside anger and its company of fools.
Pitchin' a Fit! is divided into twelve chapters:
~ Stressed Out and Overwhelmed
~ Is It Wrong to Get Angry?
~ What Causes Anger?
~ Provoking Our Children to Wrath
~ Trigger Happy – What Sets You Off?
~ Yelling Moms, Hollering Dads
~ "But I'm Not Patient!"
~ What Patience Is and Isn't
~ Nurture in the Heart of Correcting
~ The Power of Affirmation
~ Creating Peace in the Home
~ Accountability
In this season of life, our family is experiencing a lot of trial and affliction. This, in the providence of God, has caused the boiling pot of my soul to produce the scum of my life and as it boils to the top, I am forced to deal with it daily, mortifying it by the power of the Spirit. One of the most beautiful aspects of affliction is that God purposes us to conform us to the image of Christ. For such a time as this I am so very thankful for this timely book by Israel and Brook Wayne. I cannot recommend this book heartedly enough. It is relational, it is Scriptural, it is confrontational in the best way. A book that creates a desire to mortify sin and glorify God in all things is a very good thing indeed, and this is just what Pitchin' A Fit does for the parent struggling with the sin of anger.
So then, my beloved brethren, let every man be swift to hear, slow to speak, slow to wrath; for the wrath of man does not produce the righteousness of God.
James 1:19-20
~ ~ ~ ~ ~ ~ ~ ~ ~ ~
From the author's web site, FamilyRenewal.org: Israel Wayne is an author and conference speaker who has a passion for defending the Christian faith and promoting a Biblical worldview. He is the author of the books Homeschooling from a Biblical Worldview, Full-Time Parenting: A Guide to Family-Based Discipleship, Questions God Asks, Questions Jesus Asks and Pitchin' a Fit: Overcoming Angry and Stressed-Out Parenting. He has been a regular columnist for Home School Digest, Home School Enrichment and The Old Schoolhouse magazines. He is also the site editor for ChristianWorldView.Net
Support the Waynes by buying this book directly from the author's web site: Pitchin' A Fit!: Overcoming Angry and Stressed Out Parenting
I was provided a copy of Pitchin' A Fit! Overcoming Angry and Stressed-Out Parenting for review by Cross Focused Reviews and New Leaf Publishing Group. All opinions are my own.
~ ~ ~ ~ ~ ~ ~ ~ ~ ~
Enter below to win an autographed copy of Pitchin' A Fit! Overcoming Angry and Stressed-Out Parenting

a Rafflecopter giveaway

No purchase necessary. Open to US residents, void where prohibited.
Giveaway begins 03/19/16 and ends 03/27/16. One autographed copy of Pitchin' A Fit! Overcoming Angry and Stressed-Out Parenting will be given away. Approximate retail value is $12.99. Book was purchased by and will be mailed to winner from blog author. Winner will be chosen randomly, by Rafflecopter, within 24 hours of the close of the giveaway. The winner's name will be listed on the giveaway post and notified via email within 48 hours of the close of the giveaway.
If the winner fails to respond by 03/31/16, then another winner will be chosen.