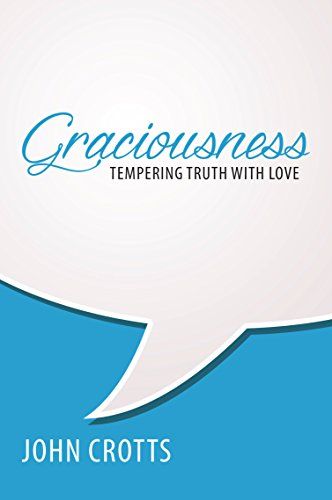 "The faithful Christian life cannot be lived merely with zeal for truth but must also cultivate corresponding graciousness." This is the message of John Crotts new book, Graciousness: Tempering Truth With Love. How we say it is just as important as what we say. Truth and love work in tandem and cannot be divorced without disastrous consequences.
This book is for all Christians seeking to imitate Christ, to be holy as He is holy. It is for those who desire to be conformed to His image, to speak the truth in love, and to walk in righteousness. In short, this little gem of a book is for all who bear the name of Christ.
According to Crotts, what you say could potentially be dismissed simply by virtue of how you communicate that message. A truth wrapped up in refuse cannot be distinguished from falsehood wrapped up in the same. What you have to say in terms of life-giving truth, might be dismissed outright if your message is delivered apart from graciousness.
It is not enough always to say the truth; you must also say the truth in love. The Lord Jesus Christ provides the greatest model of a person with zeal both to know and to apply the truth of God. Although He knew the truth better than anyone who ever lived, He was never guilty of selfishly showing off His understanding of the Scriptures. While He used the Word of God to correct and admonish others who needed it, His necessary corrections came accompanied with virtues such as love, gentleness, and kindness. These virtues can be summarized as graciousness (p.2).
Crotts emphasizes repeatedly our need to always speak truth tempered with graciousness but more than that he gives us practical applications in order to do so. His book cites the greatest example in Christ and also in Paul as they dealt with naysayers, critics, and unbelievers.
…the truth of the Bible is manifestly so important for the believer's grasp of the identity of the Creator God–His character, His ways, and His will for humanity–that he or she cannot love truth too much. The Lord Jesus Christ proves to be the ideal to which Christians must strive (p.5).
As Crotts notes, it is in kind words and actions that heart-level grace is demonstrated. These actions seek the welfare of the people we engage. Christ modeled kindness, compassion, gentleness, and patience. We should strive for the same. Truth meets graciousness.
Our goals are not centered on winning arguments or in destroying our adversary. Rather, we are to seek the good of one another, exemplifying the same traits as Christ showed sinners. Our words and actions should reveal humility, knowing the grace and mercy Christ has shown us.
Graciousness: Tempering the Truth With Love is a concise book, filled with practical applications and encouraging words. Although short in length, it is filled with wisdom for the Christian seeking to walk with the Son.
In order to cultivate graciousness in our hearts, we must first root out harshness. Crotts says, "The source of harsh speech is a harsh heart." We must realize the evil of ungraciousness and learn to identify its components: anger, manipulation, revenge, a lack of love and compassion, thoughtlessness, impatience. and pride. It is only then we can grow graciousness.
A mind filled with God is the most powerful force for change within a believer's heart. When you apprehend the true character of God, your perspective on life changes dramatically. You become more aware of the sinfulness of sin as the Holy Spirit illuminates the word of God in your mind. You experience sharp conviction as your sinful attitudes and conversations seem to be in the spotlight before the audience of God. As painful as such discoveries may be, obtaining a Godward perspective is where change begins (p.78).
How are we, then, to cultivate graciousness? Crotts readily offers us wisdom, reaching into the Scriptures, to help us understand how to grow graciousness in our hearts, in our mindset toward others, in our actions, and in our communities. Pick up a highlighter, you'll need it!
This little book is packed with wisdom and practical application. It's easy to read, digestible, and will stir in you a desire to cultivate graciousness. In writing this book, Crotts easily and masterfully demonstrates the very thing he hopes to encourage in his readers. Truth and graciousness–a beautiful and sweet-smelling bouquet, the very fragrance of life.
About the author

John Crotts is the pastor of Faith Bible Church in Sharpsburg, Georgia. The Lord has blessed John and his wife, Lynn, with three daughters and a son: Charissa, Danielle, Chloe, and Josiah.

Disclaimer
I received a copy of Graciousness: Tempering Truth With Love through Cross Focused Reviews from Reformation Heritage Books for my honest opinion.