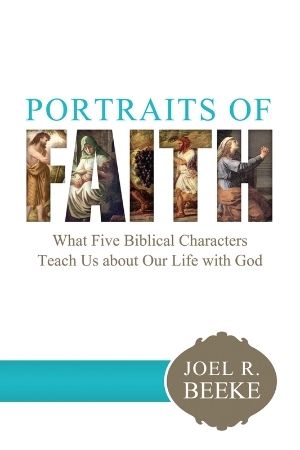 Book Review: Portraits of Faith
God is gracious indeed. Through the midst of the storms of life He, being rich in grace and mercy, sends us a word of comfort, of wisdom, of strength in the most unlikely places. This past year has been particularly difficult for our family in the weight and manner of affliction. Our Lord has been pleased to send the rains of affliction to water the desert of my heart. I have read the comforting words of the Puritans and to my absolute surprise have found the same balm and solace in Joel R. Beeke's book, Portraits of Faith: What Five Biblical Characters Teach Us about Our Life with God.
I had requested to review Joel Beeke's book namely because I have heard good things of him. I did not imagine how much this simple little book would touch me, how it would nourish my soul. It has been such a blessing to be reminded of the truths God has taught me over the past year in order to grow my faith. That He would see fit to bring me to read this book testifies to the providence and love of our Sovereign God.
I cannot say with exaggeration how much Joel Beeke's book has meant to me. I am worn and weary from the storms that have not ceased, of the trials that abound. How much more so are those who are experiencing the same. This simple little book speaks to hope in affliction, in a beautiful faith that God in His loving-kindness extends.
Faith so often we ascribe to the great men and women of the Bible. Joel Beeke gives us a glimpse of five individuals whose quiet faith has easily been overlooked. We tend to see Adam and Eve as the harbingers of a fallen world. But Beeke reveals an overlooked expression of faith and hope in the coming seed– of Jesus who would save us from our sins and restore all things.
The Shunammite woman is the one I identify with most in Portraits of Faith. Her simple faith in the midst of great affliction resonates greatly with me. All is well because Christ is all. Despite the pain, the loss, the struggle, we know from her example that all things will be made well. We know from Romans 8:28 that all things work together for the good of those who love Him, to the called according to His purpose. Whatever He sends, He sends for our good. He is our strength and through adversity He grows our faith.
Beeke also reflects on the Canaanite woman and Caleb, two stalwarts of faith often overlooked when considering the heroes of the Bible. Our faith is not merely intellectual assent but it must be comprehensive, active, childlike, submissive, mature, and persevering. Our faith must be placed in Jesus Christ, not in our own strength and merit. He is our all. Beeke's words, simple and easy to digest, point us to the object of true saving faith: Christ Jesus.
At the end of the book are study questions for each of the five chapters. These questions help us to reflect and grow in our faith as we stop to consider Beeke's message and purpose. Portraits of Faith is not a book to skim through or read once and put away. It is meant to devour time and time again, as a stepping stone to delve deeper into the Scripture and to learn from our Puritan forefathers. I encourage all who read Beeke's book to make note of the references sprinkled within and read from the treasure trove of Puritan works. Be active and vigilant in growing your faith. Stagnation is easy. Growing is an arduous task, but one with great reward.

~ ~ ~ ~ ~ ~ ~ ~ ~ ~
Title: Portraits of Faith: What Five Biblical Characters Teach Us About Our Life with God
Author: Joel Beeke
Publisher: Reformation Heritage Books
Release Date: January 27, 2016
Pages: 104
We often use the word faith without thinking much about its meaning. We know that without faith, it is impossible to please God and that faith is the core and foundation of daily Christian living. But what is faith? Author Joel R. Beeke believes we can best understand faith by seeing how it operates by the Spirit in the lives of fallen sinners like us. Accordingly, he considers essential aspects of faith operating in the lives of Adam and Eve, the Shunammite woman, the Canaanite woman, and Caleb. With pastoral warmth, he challenges readers to ask themselves three questions: Do I have this kind of faith? Am I exercising the particular aspect of faith being described? How can this example of a particular dimension of faith be used in my life to make me a mature believer? Study questions for each chapter encourage meaningful reflection for both individual and group study.
~ ~ ~ ~ ~ ~ ~ ~ ~ ~
A copy of Portraits of Faith: What Five Biblical Characters Teach Us about Our Life with God was provided free of charge for my honest review by Reformation Heritage Books through Cross Focused Reviews.
~ ~ ~ ~ ~ ~ ~ ~ ~ ~
Support this site by purchasing from affliate link below: