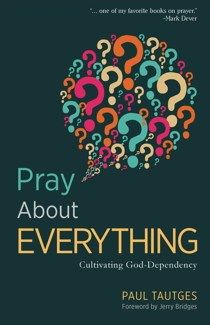 Paul Tautges book, Pray About Everything: Cultivating God-Dependency, encourages the reader to walk away with the conviction that prayer is the life-blood of not only the individual Christian but the church, both locally and universally. Much has been written about prayer. A good deal of excellent material is out there. But Tautges challenges us to think about prayer corporately and in the setting of the church.
Prayer today has oftentimes become relegated to an add-on in the church. Weekly prayer meetings, characteristic of the first-century church, are nearly non-existent. Replaced by programs and events meant to entertain us and appease our fleshly desires, the church has substituted necessity for want. Who has the time or patience to devote half an hour to prayer let alone one or two?
Pray About Everything is a short but important book on prayer. The last few years have been extremely difficult for our family. God continually teaches us to depend on Him for all things. Tautges emphasizes this repeatedly. Prayer casts aside the fleshly trappings of our self-sufficiency and relies on God for all things. We remove ourselves from the throne that belongs solely to our Sovereign LORD.
Tautges' book is divided up into two parts. The first part addresses a pivotal point: prayer is an expression of God-dependency. The second part is practical and gives brief meditations for prayer meetings. Scripture and excellent quotes from godly men are sprinkled throughout. Rounding out this brief book is a selection of appendices that are extremely helpful for the church.
I appreciated this little book. My heart stirred toward the LORD. This was a refreshing read. I encourage my readers to read this book for themselves and to obtain a copy for their pastors and elders. May your lives be blessed by this small treasure and may God be glorified.
~ ~ ~ ~ ~ ~ ~ ~ ~ ~
Paul Tautges serves as senior pastor of Cornerstone Community Church in Cleveland, Ohio. Paul is the author of many books including Comfort the Grieving, Counseling One Another, and Brass Heavens, and serves as the series editor for the LifeLine Mini-Books.

He blogs regularly at CounselingOneAnother.com.

Pray About Everything: Cultivating God-Dependency was published by Shepherd Press.

A free copy of this book was provided through Cross Focused Reviews for my honest opinion.