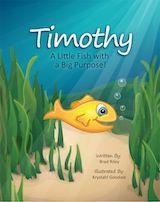 Timothy: A Little Fish with a Big Purpose! is a simplistic but sweet story for young children about a little fish used in a mighty way. Centered around the biblical text from Matthew 17:24-27, this adorable book follows the adventures of Timothy, a little fish, who after obediently following his grandmother's instructions, picks up a shiny coin and finds himself swept up in the apostle Peter's net.
A man's heart plans his way, But the Lord directs his steps.
Proverbs 16:9
Written by Brad Riley and illustrated by Krystahl Goodale, this charming book communicates a deeper truth about the Sovereignty of God and His using our lives to accomplish His purpose. In Riley's note to parent and grandparents, he notes in agreement with the Word of God, that all of the earth and its fullness belongs to God. He directs our steps, even that of a little fish. Even those things we consider insignificant are orchestrated by our Sovereign LORD for His own special purpose.
Children will enjoy this delightful story and take joy in the biblical truth that even the smallest child serves a purpose in His Kingdom.
And we know that all things work together for good to those who love God, to those who are the called according to His purpose.
Romans 8:28
Disclaimer: I received a copy of this book for review. All opinions are my own.