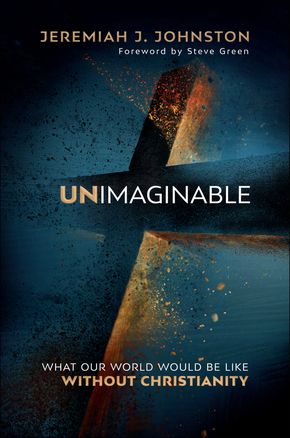 What is unimaginable? Author and New Testament scholar Jeremiah J. Johnston explores this question in his new book, Unimaginable: What Our World Would Be Like Without Christianity. The influence of Christianity on Western Civilization has long been an interest of mine. It began with an assignment for a research paper in my Western Civilization I class at the local community college.
Through it I learned a great deal the impact Christianity and the Bible made as it collided with a dark and desperate society devoid of hope. One of the main sources I read at this time was Alvin J. Schmidt's book, How Christianity Changed the World.
I've since posted my research paper on my blog and was amazed to see how much traffic it drove to my site from all over the world. I never would've imagined the amount of interest there was on the topic. People are searching for answers–what has Christianity wrought?
Due to my continued interest in the subject I was glad to have the chance to read Unimaginable. I was eager to see how it compared to Schmidt's book–how similar it was in content and where it deviated. How Christianity Changed the World served as a general overview of the areas Christianity has influenced including education, government, science, arts, and ethics. I was a little disappointed that Unimaginable failed to touch on some of these topics and where it did, it left much to be desired.
This is not to say that Johnston's book is of lesser quality or not worth reading. Far from it. It does take a different approach. The book is divided into three sections: The World Before Christianity, The World Without Christianity, and The World With Christianity.
The time before the advent of Christ was dark. Indeed, it is a travesty that many are unaware of the hardship, suffering, and depravity that existed. Women and children lived at the mercy of those over them. The concept that all are created in the image of God with intrinsic value and worth was not embraced by societies devoid of the light of Christ. It was a time filled with fear and uncertainty.
Johnston paints a picture of what life was like prior to the advent of Christianity and it was not good. Without purpose and an objective moral standard which applied to all men everywhere and at all times, hopelessness and meaningless permeated the life and culture of its inhabitants. Most were poor and often enslaved. Despair was the breath of life under bondage. What was the remedy to a civilization blanketed in sin?
The World Without Christianity observes the men whose bankrupt philosophies wrecked havoc upon civilization, bringing untold misery and death upon millions. Men who chased every thought of the one true God from their minds and justified the wickedness of their perverse and vain imaginings. Men who sought to suffocate the light and truth.
Their names and ideas are important to reflect upon so that we may observe the rotten fruit of godlessness. By no means are their records extensive but Johnston gives us a starting point. There is much written on the apostates of old and it is imperative we bring them to mind as we look back on history.
To this end the last section in Unimaginable stands in stark contrast. A world with Christianity, true Christianity, brings light and hope. The influence of it is far-reaching, far beyond what we can imagine. History is replete with examples of the positive contributions of the faith, reaching into the far corners of the earth. Johnston here barely scratches the surface as there is much left to be said. But, still, he brings hope to light.
There is no mistake. A world without Christianity is a world filled with darkness and despair. A world sans hope. Jeremiah J. Johnston in his book, Unimaginable, brings this to bear. Although his book is not as extensive and at times I think he speculates too much and strays from the topic, I believe his work is of great importance. More thought about the implications of Christianity on society needs to be brought to the forefront.
The Bible speaks to all areas of life. Its message is life-changing and thorough. It brings hope and light to a world bathed in darkness. We would do well to learn its message and to comprehend how much Christianity has changed the world for the better. Out of darkness, light. It is unimaginable otherwise.
I do recommend Jeremiah J. Johnston's book, Unimaginable: What Our World Would Be Like Without Christianity. It presses for a well-needed conversation. We need to be honest with ourselves, with the worldview we hold. Which is consistent, logical? Which brings hope and healing? Imparts intrinsic value and dignity? Washes us in righteousness and life? I encourage my readers to read this book and chew on this one question: what would life be like without Christianity? Unimaginable, indeed.
~ ~ ~ ~ ~ ~ ~ ~ ~ ~

About the Author

Jeremiah J. Johnston, Ph.D., is a New Testament scholar and frequent contributor to national publications and shows, including USA Today, Fox News, CNN, Relevant, The Christian Post, and numerous other media outlets. Known for his unique communication skills and his infectious love for people, Jeremiah ministers internationally in partnership with the Museum of the Bible and is president of the Christian Thinkers Society, a resident institute at Houston Baptist University, where he serves as Associate Professor of Early Christianity. He is the author of Unanswered: Lasting Truth for Trending Questions. Jeremiah and his family live in Houston. Learn more at ChristianThinkers.com.

~ ~ ~ ~ ~ ~ ~ ~ ~ ~

I received a copy of Unimaginable from Cross Focused Reviews in exchange for my honest opinion.