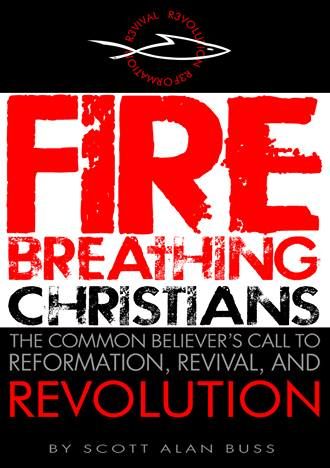 Fire Breathing Christians: The Common Believer's Call to Reformation, Revival, and Revolution by Scott Alan Buss (R3VOLUTION PRESS, 2010)
This particular book caught my eye recently, mostly due to the fact that its author, Scott Alan Buss, sent me a friend request on Facebook, but I had seen it previously while perusing the offerings on The Apologetics Group website. Taking a gander at the table of contents solidified my interest in purchasing, and now reviewing, this book. What Christian could possibly pass up reading Fire Breathing Christians with a chapter entitled "The Goat-Driven Church" or even a whole section dedicated to "The Rise of Mr. Potato Jesus"?!
What I especially enjoyed about this book is the way it is divided. There are seven sections and in this review I'd like to go over each one, include an excerpt from the parts I find most fascinating, and offer up my take on the message within.
The author begins with an introduction, laying the foundation for the chapters to follow. It is simply named Intro to Fire–The Power and Purpose of the Common Believer. Buss includes a poignant quote by Blaise Pascal revealing the source of the book's title:
"FIRE…God of Abraham, the God of Isaac, the God of Jacob, and not of the philosophers and savants. Certitude. Feeling. Joy. Peace."
Buss presents a very personal account of his experience with the illness and death of his beloved bride and his journey into a divinely inspired clarity in which he realized that God's plan "was not merely perfect in a broad, general sense, but it was flawless perfection for each and every one of us on an individual level–even for me." He moves on to explain through the stories of Blaise Pascal and the Pentecost, the God-given fire all Christians have been given and the purpose by which he has undertaken in writing this book.
"The first aim of Fire Breathing Christians is to identify the God-given fire in every Spirit-filled believer so that they might actively and enthusiastically fan its flame. From one Common Believer to another, my initial goal is to impress upon every Christian man, woman, boy, and girl who may read these words that they have both an amazing power and a unique, individual purpose, regardless of their place, position, title, or role in this fallen world. There is nothing in your past–no failing or flaw–that alters this truth in the least. Every Christian has been called to otherwise impossible heights and equipped to attain them."
It is the Common Believer, filled with the Spirit of God, who will take this fire, and accomplish otherwise impossible tasks as we are called to battle and assured victory in Christ Jesus. The Common Believer, as defined by Buss, is expressed this way:
1. Common in status as adopted sons and daughters of God the Father.
2. Common in submission to God the Son as Savior and Lord.
3. Common in submission to biblical truth as authoritative in all things.
One particular quote stood out for me, defining both the problem and solution to the culture war we as Christians are facing: "We cannot wait for God to miraculously do what He has called and equipped us to do." We cannot wait for a good and godly leader, we cannot wait for someone else to take up the mantle and the lead the charge. In Christ, we are more than conquerors and the Scriptures are more than sufficient to provide us with the direction and ammunition we need to fight the good fight in Post-Christian America against the encroaching slums of paganism. As Buss notes, the church "has surrendered to the lethargic, lazy spirit of this age, her enemies have advanced on all fronts." We have no one to blame but ourselves. The only reason the myriad elements of paganism have advanced is because the people who in word bear the name of Christ have put up the white flag of surrender, content to eat from the scraps of humanism while turning up their noses at the feast of God.
Buss notes that our nation is in open rebellion against truth and its author. The one true God, the God of Christianity, is hated and despised here, and this is what we must contend with. This is our great challenge. Christ has equipped us with everything we need to face the ongoing onslaught and we must press forward and engage the culture at every turn, in every area, and with the fervor of an already victorious people.
Not only are we faced with an enemy without, but an enemy within. The church has been compromised, and as Buss so succinctly puts it, "has given herself over to a Mr. Potato Jesus brand of religion that encourages adherents to add or remove any accessory from their customizable little pseudo-god in pursuit of personal acceptance and corporate relevance."
Under the heading "Terms of Engagement," Buss quotes C. S. Lewis from his book, Mere Christianity, as describing the path of the Common Believer:
"The Christian way is different: harder, and easier. Christ says, 'Give me All. I don't want so much of your time and so much of your money and so much of your work: I want You. I have not come to torment your natural self, but to kill it. No half-measures are any good. I don't want to cut off a branch here and a branch there, I want to have the whole tree down. I don't want to drill the tooth, or to crown it, or to stop it, but to have it out. Hand over the whole natural self, all the desires which you think innocent as well as the ones you think wicked–the whole outfit. I will give you a new self instead. In fact, I will give you Myself: my own will shall become yours.'"
Buss goes on to say, and I wholeheartedly agree with him, that Christ wants ALL of you and He wants ALL of me. Every area of life is to be fully submitted to him, not just our personal lives, but the arts, education, economics, government, etc. EVERY area. Although we will "witness the enemy boldly proclaim, exalt, and advocate opposition to virtually every clearly pronounced truth of Scripture," we must in return be prepared to gain a "crucial understanding" of what the enemies of Christianity are doing and why they are doing it. If we remain ignorant on this issue, we will be at a disadvantage. Instead, "with our enemies identified, their strategies understood and the battlefield surveyed, we will then fix our minds on the God-given blueprint for victory."
Buss then outlines three "essential aspects of the Holy Spirit as evidenced in the life of the obedient Common Believer:"
1. A humble spirit—We must never forget that every slave of the enemy is only acting according to their fallen nature. We were once just as they are now. We must always earnestly pray for their regeneration by God's sovereign hand and treat them accordingly: with love, patience, and respect whenever possible. Our boldness must always be "in the Lord," and not of ourselves.
2. A servant's spirit—We must always aspire to actively, consciously submit to the will of God the Holy Spirit, who dwells within us. We must serve Him completely and in all areas of life.
3. A martyr's spirit—We must be willing to pay any price for the sake of advancing the Kingdom of Christ. Any means any.
Buss concludes his intro under a sub title of "The Secular Inquisition" and endears his readers with these words: "American culture is at war with God, His Word, and His people. The active suppression and silence of all Christian thought is a primary goal of the forces currently guiding secular civilization. We now live in an age of Secular Inquisition and must prepare accordingly."
Here begins the journey into the meat of the book, beginning with the first section called "Surveying the Field of Battle" in which I will delve into next. Buss sets the stage well, grabbing hold of the reader, shaking him by the nape of the neck and removing him out of his comfort zone, yet with a gentleness and respect of someone who is truly on fire for God.
*Originally written December 4, 2010. I will take up where I left off in future posts.