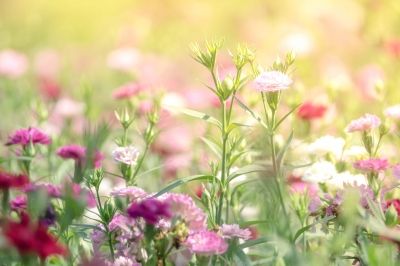 Now thanks are to God who always leads us in triumph in Christ, and through us diffuses the fragrance of His knowledge in every place. For we are to God the fragrance of Christ among those who are being saved and among those who are perishing. To the one we are the aroma of death leading to death, and to the other the aroma of life leading to life. And who is sufficient for these things? For we are not, as so many, peddling the word of God; but as of sincerity, but as from God, we speak in the sight of God in Christ.

2 Corinthians 2:14-17

Affliction purposes a distinct fragrance in the lives of the saints. Longsuffering, abiding joy, and unremitting faith in the promises of Christ give off not a subtle scent, almost undetectable, but permeates the air and is carried into the wind.
For those of us who are enduring trials, dry deserts, and tumultuous storms, we are in a unique position. Romans 8:28 reminds us that all things work together for the good of those who love God, to the called according to His purpose. When we are caught in the undertow of unrelenting affliction, it is easy to pull into ourselves and wonder why God has abandoned us.
But we haven't been abandoned. Rather, we have been given an extraordinary blessing.

It is easy to proclaim trust in Christ at daylight with the sun at our backs. It is altogether different to trust Him in the darkness where we can neither see nor feel His presence. For the Christian, adversity is the sweet, fragrant petals to life's thorns, for through them we are conformed to His image as we gaze upon His beautiful face.
As we are conformed to Christ's image through affliction, as we learn to love and trust Him more deeply, we bear witness to those around us. The fragrance of Christ goes before us, a living and quiet testimony to the glory of God.
Have you not seen it pour from your lives in your day to day activities? Do you speak of a greater love and dependence on Christ? As you imagine you are being pulled under in the tempest do you not hear your voice crying out, "LORD, be merciful to me, a sinner?" Beloved, He hears, and He answers as sweet perfume pours from your soul.
I can't count the number of times people have said to me, "I don't know how you do it" or, "You must be so strong." Here, I am given a greater opportunity to declare the glory of God. As an introvert, this has been a growing process for me. It is easy to write about the blessings God has bestowed on me through all the trials and testify to His sovereignty and grace. In public, my words are fewer and to the point. I simply tell them that it is God who gives me strength. I would be nothing without Him.
In our affliction we are given a great responsibility. One is to proclaim Christ's mercy and grace. The other, to come alongside those who are struggling under the weight of their burden and share in it. As Christ identifies with us in our suffering, we too, are to identify with others in theirs. A shared burden becomes no burden at all.
When God lays men upon their backs, then they look up to heaven. God's smiting His people is like the musician's striking upon the violin, which makes it put forth melodious sound. How much good comes to the saints by affliction! When they are pounded they send forth their sweetest smell. Affliction is a bitter root, but it bears sweet fruit.
Thomas Watson
Through adversity, God bestows great blessings. As I stop and reflect on the circumstances of the past several years, I see His hand in all things. His greater purpose escapes me but I trust that He is working in my life, in our family's lives, and in the lives around us. He has given me a greater opportunity to live out my faith as the audience of the world looks on.
I pray that the fragrance of Christ will waft out from among us and testify to His glory and grace. I pray that in affliction we may bear His name with great boldness. That our love will supersede our own pain. That our joy will surpass our tears. Send our your fragrance. Pour it out and rejoice.
~ ~ ~ ~ ~ ~ ~ ~ ~ ~
Image courtesy of bugtiger at FreeDigitalPhotos.net