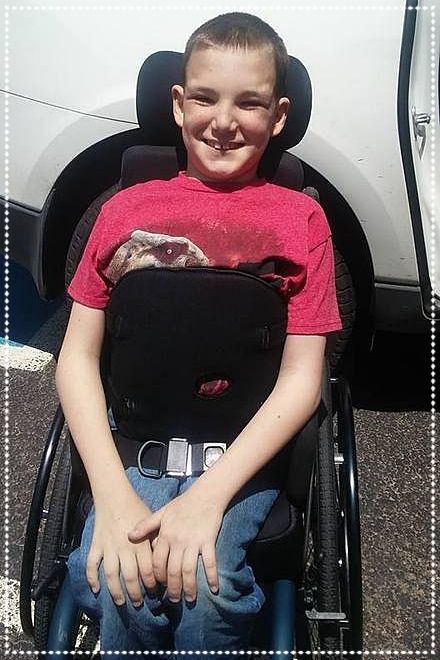 Joshua Caleb. Our sovereign God has graciously gifted me this precious child. He is such a delight, always presenting with a warm smile and a sparkle in his eye. He knows no stranger, seeing each as made in the image of God and having intrinsic value. His hugs are warm and comforting. His laughter, beautiful and contagious. His simple faith, inspiring. Joy, abundant. Love, evident. God's grace, bountiful.
This beloved child has been through an inordinate amount of trials in his young life. At nine months of age Joshua was determined by doctors to be "failure to thrive" and without much hope for survival. Yet the mercy and sovereignty of God proved otherwise. Marked by severe global delays, he was slow to meet his milestones. Now, at twelve-years-old, Joshua still has the mind of a four-year-old. To some he is called to have an intellectual disability. But this disability is anything but. He is beautiful and perfect as God, in his mercy and grace, has given us a great treasure. To have such hope and faith in the face of trials and to put forth a genuine smile despite the adversity. How I pray the LORD would make me as this lovely child.
Neurodegeneration with brain iron accumulation. Severe dystonia. Neuromuscular scoliosis. Restrictive lung disease. G-Tube. Wheelchair. CPAP/Oxygen. These are a few terms we have become accustomed to over the past year. Colorado Children's Hospital has become our home away from home. Therapies, doctor visits, blood tests, x-rays, overnight evaluations, surgery. This has become a major part of our life. But it doesn't define us as a family. First and foremost, we are children of a sovereign God who is rich in mercy and grace. And I know, as Romans 8:28 so beautifully states, that all things work together for the good of those who love Him.
All things. Even in this persistent adversity. Before my very eyes, I see evidence of God's promise. All it takes is one look at my son's face. His smile. His beautiful smile. His, "I love you, Mama." That smile when I ask him how he's doing and he responds, "Not good." It's still there. God is doing great things.
This brokenness. This sin rent world groaning under the weight of affliction. Greater things are yet to come. Beautiful things. Glorious things. Wonderful things.
Because Christ is on His throne. Daily, Joshua reminds me of these things and he needn't even say a word.
Joshua brings joy wherever he goes. Not the empty joy of the world, but the deep abiding joy of Christ. He brings together the saints, he loves the unloved, he spreads the hope of Christ merely by being who he is, exactly who and how our sovereign God created him to be.
To see my child in pain is so heart wrenching. To hear, "Mama, I can't walk," "Mama, it hurts," or "Mama, hold my head up," hurts more than anything right now. It pierces my heart through and through. But it causes me to cry out to God. It draws me closer to His side. It leads me to trust in Him as never before. To love Him more. He understands my brokenness and sees my sin yet in spite of my filth, He washes me anew and dresses me in His righteousness.
This pain, this suffering, pale in comparison to the coming glory of Christ. One day all that is wrong will be set right. There will be no more pain, suffering, or death. God will wipe away every tear. How I long for that glorious day! Many ask, why does God allow such things, why doesn't He do away with them now? Beloved, God is making all things beautiful in its time. I would not be who I am now, nor would Joshua, if we had not continued on the path God has set before us. In suffering, I am being conformed to His image. That I love more, that I know Christ intimately, that I may take the opportunity to share the gospel in a time such as this, that I might glorify God in all things. These are my heart's desires. I would not desire so without affliction. I would not know the vastness of His grace and mercy. I would not love my child as I do.
Joshua Caleb. Beautiful. Broken. Beloved of God. O God, I thank you for him. Thank you for revealing more of Yourself through Him. Thank you for vision, that I and the world may see his wonderful smile.
Prayfully consider donating to Joshua's medical fund as he has a long road ahead of him. Thank you!