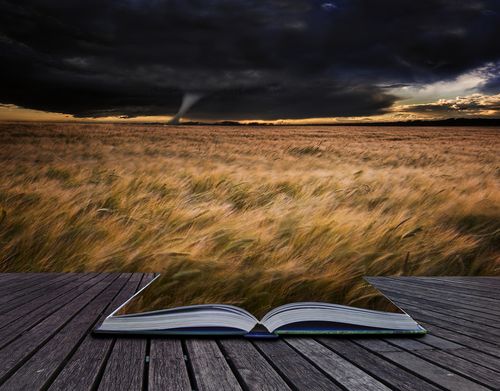 Homeschooling can be difficult enough under normal circumstances.
Relationships and financial concerns, curriculum and scheduling choices, balancing homeschooling with life–these are common struggles within the homeschooling community. Finding the right curriculum to suit my children has been the greatest task in all the years I've homeschooled. Nothing seemed to work with my children and their unique learning abilities. Then there was the break in age between my three oldest and my youngest. What was I to do with a rambunctious toddler, then 18-months-old, who constantly kept me on my toes?!
All three of my older children are struggling learners. I tell them often, "Slow and steady wins the race!" I'm learning to avoid the comparison trap, a common struggle for many homeschooling families. We have no greater responsibility than to raise the children God has entrusted to us. Teach them, nurture them, guide them. But do not compare them to your homeschooling friends or those in the world. The Word of God is our standard, and as we cannot measure up to such a standard, we know that it is Christ's righteousness in us that does.
Many of us seek to follow the principle of Deuteronomy 6:4-9
Hear, O Israel: The Lord our God, the Lord is one! You shall love the Lord your God with all your heart, with all your soul, and with all your strength.

"And these words which I command you today shall be in your heart. You shall teach them diligently to your children, and shall talk of them when you sit in your house, when you walk by the way, when you lie down, and when you rise up. You shall bind them as a sign on your hand, and they shall be as frontlets between your eyes. You shall write them on the doorposts of your house and on your gates."
Our love for God should be all encompassing. Not merely by intellectual assent but with every fiber of our being. This task is arduous enough within ourselves but as parents God has given us the responsibility, with the help of the church, to transmit the faith to our children and to teach them to apply it to all areas of life. What a monumental and humbling calling! What God has called us to do, He will also freely give to us the means to accomplish it, namely wisdom and grace.
Enter in the Tempest
What, then, are we to do when the trials hit? How do we navigate the waters of homeschooling when everything darkens and the waves threaten to pull us under? The last two years have been extremely difficult for our family. We have had our share of trials in the past, especially with our children who have had a variety of medical problems and developmental delays, but nothing could have prepared us for what we have endured the past few years. Nothing save the grace of God.
Joshua, our 12-year-old son, is our second oldest. As an infant he was diagnosed with failure to thrive and has had global delays his entire life. A few years ago he was officially diagnosed as having an intellectual disability. This past spring he was reevaluated again and presented as having the mentality of a 4-year-old. I feel it is a blessing that God, in His infinite mercy and grace, has given Joshua the mind of a small child. I cannot even imagine what life would be like for him if he was a typically developing child who has to endure everything that is going on.
Last year Joshua began to physically deteriorate and after several tests the doctors determined he had an unknown neurodegeneration with brain iron accumulation disorder with accompanying dystonia. We spent a lot of time on the road to and from the children's hospital and countless hours in doctors appointments and hospitalizations. The genetic tests to pinpoint the exact gene causing the problems have failed to provide any answers. We are now looking at exome sequencing.
Needless to say homeschooling lacked any normal semblance in the past year. A round trip commute to the children's hospital took approximately three hours. It was during this time I made use of the public library and checked out all sorts of books on CD. After we finished a book, I'd look for the movie counterpart and we'd discuss which medium the kids preferred and what they liked and disliked about each one.
When we were able and I wasn't too tired, we did our best to sit in the classroom and work out of textbooks or read from a novel. We used the computer and internet for history curriculum and to play educational games. During the second half of the school year, I bought ACE workbooks for the kids to work on. These worked great to take on the road and to appointments. Our school year was sporadic and for my children, who were already behind academically, it became a point of stress.
But it shouldn't have. We were in a very difficult season of life. My son, who has endured so much this past year, had the love of his siblings around him. Time together is precious. Academics can wait. Time spent together, learning in an unstructured environment, and taking the opportunity to create memories is the greatest blessing you can have when in the midst of trials. Our family enjoyed several short road trips to visit my parents in Montana. We enjoyed simple outings and playing together outside in the warm sun. When life is difficult and suffocating, we don't need anything in our lives that will contribute to the darkness. A light homeschool is light!
When You're in the Midst of Life's Storms, Look to the Light
Whatever the source of your storm, look to the Light, the One who freely offers wisdom and grace. If something in your homeschool is causing you grief, set it aside. If you are too stressed, take a break. Take the time to enjoy your family. Read good books together. Take nature walks. Talk with your children about life. Cry and laugh together. Just breathe. Academics can wait. Loving and nurturing your children can't.
This year our family is determined to get back on track but with a caveat of flexibility. I have written out a general routine, an order of subjects to cover during the week with a general time limit of 45 minutes per subject (my children are easily distracted and take a lot more time to accomplish tasks). Whatever isn't finished during school hours is to be finished after dinner. Amazingly enough, this plan is working great for my children. Not once have they complained! They seem to enjoy it. Sometimes structure is a well-needed remedy but if your children struggle with it and life is heavy, gently back off. There is a time and a season for everything.
Our goal this year is to aim for a sense of normalcy. We've enjoyed a more relaxed atmosphere but now it is time to once again focus on routine and academics. Ask God for wisdom in finding the right path for where you're at. My goals in the midst of life's storms should not be necessarily yours. Our desire should be to glorify God in all we do, regardless of the circumstances. Homeschooling is a wonderful way to do this. It will look different at times, and that's perfectly okay. It takes great courage and perseverance to keep at it. Discouragement comes and goes but our love for Christ and for our children should never be set aside at the expense of our determination to homeschool.
The Road Not Traveled Alone
Our family belongs to two homeschooling groups and has the support of a loving and wonderful church family. If you are in the midst of life's storms, don't go it alone. Lean on the strength and prayers of others. But most of all, lean on the strength and grace of our Sovereign God. His love for His children knows no bounds. Cry out to Him and immerse yourself in His Word. Do not let your well run dry. His grace is sufficient for you and He will fill your cup to overflowing, even in the midst of the tempest when you feel you are being pulled under. Life's storms are no match for the providence and sovereignty of God. Therefore, in the chaos of life's storms, you can do it. You can homeschool and thrive.
Please consider helping our family by contributing to Joshy's Medical Fund.

__________________________________________________________
Photo copyright by Matt Gibson/Shutterstock