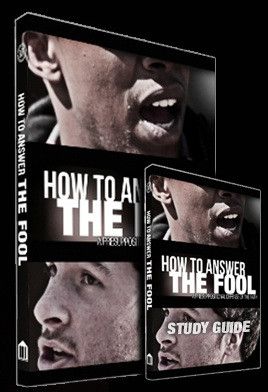 The fear of the Lord is the beginning of knowledge;
fools despise wisdom and instruction.
Proverbs 1:7
In How to Answer the Fool: A Presuppositional Defense of the Faith, Sye Ten Bruggencate of Proof that God Exists, exerts that, "All the treasures of wisdom and knowledge are hidden in Christ. You cannot know anything at all unless you start with God." This is the basic premise of presuppositional apologetics. In this video, presented by American Vision, Sye forgoes all evidential apologetics and cuts to the chase. His goal? Show his opponent that any worldview apart from God and His revealed Word is a complete absurdity.
Sye Ten Bruggencate engages students on campus throughout this video in addition to debating with self proclaimed atheists. To those not familiar with presuppositional apologetics his methodology at times may seem brash or awkward. Bruggencate continually repeats the same questions in an attempt to bring his opponent to realization of the absurdity of his worldview without God. After watching these exchanges it became apparent to me that those with conflicting worldviews do indeed see their inconsistencies but rather than admit the truth, non-Christians will continue to suppress the truth in unrighteousness.
What is apologetics? This video give a precise definition:
a•pol•o•get•ics
[noun](used with a singular verb) The branch of theology that is concerned with defending or proving the truth of Christian doctrines.
Ten Bruggencate takes issue with evidential apologetics and highlights the clips of known Christian apologists such as Lee Strobel, Dr. John Lennox, and Dr. Frank Turek. The problem, he views, is the basic premise of those who practice this type of apologetics. Is God on trial here? By acquiescing to the arguments and objections of the non-Christian we are permitting them to stand in judgment of God. This should not be so! The Bible calls those who deny His existence fools! The Scriptures are clear that the problem is not a lack of knowledge or evidence but sin.
For the wrath of God is revealed from heaven against all ungodliness and unrighteousness of men, who by their unrighteousness suppress the truth.
Romans 1:18

The truth is that the non-Christian KNOWS the truth but because of his love of sin will suppress it. There is sufficient evidence declaring the glory of God and the unregenerate is without excuse.
The heavens declare the glory of God,
and the sky above proclaims his handiwork.
Day to day pours out speech,
and night to night reveals knowledge.
There is no speech, nor are there words,
whose voice is not heard.
Their voice goes out through all the earth,
and their words to the end of the world.
In them he has set a tent for the sun,
which comes out like a bridegroom leaving his chamber,
and, like a strong man, runs its course with joy.
Its rising is from the end of the heavens,
and its circuit to the end of them,
and there is nothing hidden from its heat.
Psalm 19:1-6
For what can be known about God is plain to them, because God has shown it to them. For his invisible attributes, namely, his eternal power and divine nature, have been clearly perceived, ever since the creation of the world, in the things that have been made. So they are without excuse. For although they knew God, they did not honor him as God or give thanks to him, but they became futile in their thinking, and their foolish hearts were darkened.
Romans 1:19-21
Pascal's Wager, known and used by many Christians in attempts to defend the faith has a severe flaw. Ten Bruggencate proclaims, "God is not a good bet, God is not even the best bet, God is the certain God that has revealed Himself to us, such that we are certain of His existence (Romans 1: 18-21)." Christians do not worship a "probable God," and should not in the course of apologetics defend a "probable God." Such a god does not exist. By defending a "probable God," we are lying about who He is, and that my friends, is sin.
Ten Bruggencate also takes issue with the statement that professing Christians will use saying, "I became a Christian because of the evidence." To those he declares, "You are not a Christian." Is he being too hard or judgmental here? The Scriptures are clear on this matter. Salvation is completely under the jurisdiction and sovereignty of God:
God may perhaps grant them repentance leading to a knowledge of the truth, and they may come to their senses and escape from the snare of the devil, after being captured by him to do his will.
2 Timothy 2:25a-26
God alone grants repentance and repentance comes before knowledge. Evidential apologetics may at times be used of God to lead one to repentance, but it is God alone who saves. Bruggencate asserts that the issue is not evidence. It is sin. The foundation of reasoning is God and without it everything is meaningless.
Trust in the Lord with all your heart,
and do not lean on your own understanding.
In all your ways acknowledge him,
and he will make straight your paths.
Proverbs 3:5-6
The next definition the video address is the word presuppose.
pre•sup•pose
[verb] A "presupposition" is an elementary assumption in one's reasoning or in the process by which opinions are formed…[It] is not just any assumption in an argument, but a personal commitment that is held at the most basic level of one's network of beliefs.
We all have the same evidence but we interpret it according to what we already believe. This is the point Bruggencate tries to drive home. No amount of "evidence" or well construed arguments will change the mind and heart of the unregenerate. Only God can do that. Ten Bruggencate, instead, attempts to bring his opponent into a realization that his presuppositions are faulty because they are based on a faulty worldview. Consistency is the issue here. Non-Christians need to see that knowledge and logic are derived from God, not their own standards.
What is knowledge?
knowl•edge
A clear and certain perception of that which exists or of truth and fact; the perception of the connection and agreement or disagreement and repugnancy of our ideas, learning illumination of mind.
Infinite knowledge is in Christ and we cannot know anything apart from Him. He is our authority. The Scriptures do not tell us merely to go and make disciples. It starts with the assertion that ALL authority in heaven and earth is given to Jesus Christ. Therefore we are to go and make disciples. We cannot argue for Christianity by giving up Christianity! What an absurdity! We cannot dispose of the ultimate Authority in defending our faith. We chuck out the Scriptures and bring ourselves down to the level of the fool when doing this.
Ten Bruggencate, in applying presuppositional apologetics, works to destroy any worldview not aligned with the God of the Bible. Christians are to "destroy arguments and every lofty opinion raised against the knowledge of God, and take every thought captive to obey Christ" (2 Corinthians 10:5) but in all this, Ten Bruggencate quips, "Don't be a jerk about it!"
Opponents engaged against presuppositional apologetics are reducing themselves to absurdity. Where do they get truth without God? Most of the people Ten Bruggencate engages are unable to come up with a clear answer other than themselves. There is no such thing as an atheist or a theist, but only Christians and idolaters. There is only "God and not God." If your standard of truth is not the Scriptures, Ten Bruggencate asserts, you are not a Christian!
How to Answer the Fool: A Presuppositional Defense of the Faith in an excellent example of presuppositional apologetics in action. Some may be put off by Ten Bruggencate's style, namely his repetition of certain questions. However, I found it refreshing and necessary as I believed it led his opponents, if not those who witnessed the exchange, to realize that it is not about the evidence but about their preconceived beliefs regarding the Christian faith. They live inconsistently in their worldview and Sye Ten Bruggencate does a remarkable job presenting them with their folly, even if they don't want to see it. Non-Christians claim his arguments make no sense, but it does succinctly! It is nonsensical to deny the truth and as we engage in apologetics it is imperative to remember that repentance is a gift of God. We are merely His instruments.
*CONGRATULATIONS to Cowboy Bob!*
*Disclaimer* American Vision allowed me to preview this video online for free. DVD and Study Guide were purchased by myself for the sole purpose of promoting, in my opinion, a useful tool for the Advancement of the Kingdom of God, and a ministry which has meant so much to me.
No purchase necessary. Open to US residents, void where prohibited.
Giveaway begins 05/17/13 and ends 05/24/13. One prize will be given away which consists of DVD and study guide. Approximate retail value is $24.95. DVD and study guide to be mailed to winner. Winner will be chose randomly, by Rafflecopter, within 24 hours of the close of the giveaway. The winner's name will be listed on the giveaway post and notified via email within 48 hours of the close of the giveaway
If the winner fails to respond by 05/29/13, then another winner will be chosen.