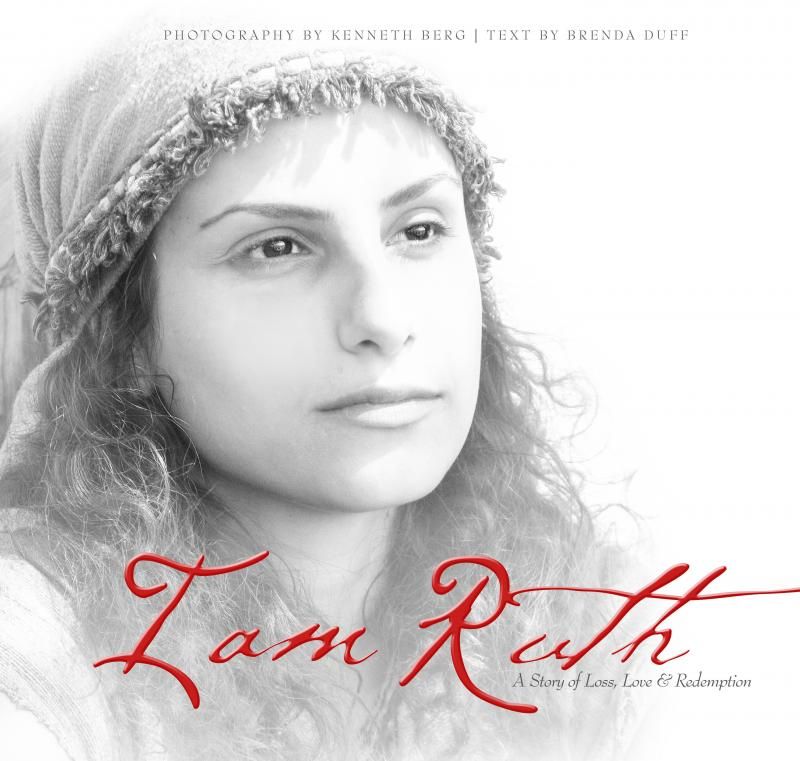 "Entreat me not to leave you,
Or to turn back from following after you;
For wherever you go, I will go;
And wherever you lodge, I will lodge;
Your people shall be my people,
And your God, my God.
Where you die, I will die,
And there will I be buried.
The Lord do so to me, and more also,
If anything but death parts you and me."
Ruth 1:15-17
I Am Ruth: A Story of Loss, Love & Redemption, one of the newest books available from New Leaf Press (a division of New Leaf Publishing Group), is a salient retelling of the story of Ruth interwoven masterfully with Scripture and exceptionally beautiful photography. Written by Brenda Duff and illustrated by Kenneth Berg, I Am Ruth is unique in its presentation and stands out among books of its kind.
The imagery captures the essence of I Am Ruth. The scenes depicted were taken in the Holy Land in close proximity to the actual location of events nearly three thousand years ago. In addition, the characters portraying the events of Ruth are presented in attire from the time of Ruth and thus bring the text to life.
The book itself is divided into four sections. Chapter one, entitled An Ancient Pathway, chronicles the events of Ruth 1:1-22. Hope Finds a Home retells Ruth 2:1-23 in chapter two. Chapters three is called A Simple Promise and recalls Ruth 3:1-18. Lastly, chapter four, My God is King, portrays Ruth 4:1-22.
I Am Ruth is filled with background information, allowing the reader to easily identify with the events and circumstances of the history surrounding Ruth. This enables a clearer understanding of biblical history and prophesy, ultimately culminating with the advent of Christ the King. This is all done seamlessly, bringing to life this special time of history in the Providence of God.
Bodie Thoene, in writing the foreward, states:
The love story between Ruth and Boaz, her kinsman redeemer, is a picture of God's love for each of us poured out through the life, death, and resurrection of our Redeemer, Jesus.
Naomi. Ruth. Boaz. Before the foundation of the world, our God, the master architect and artist, crafted his plan and purpose for His creation. His hand moves through history, weaving the stories of his people, who by exalting His name in their faithfulness, glorify Him. Naomi suffered the loss of her husband and two sons but found redemption in the faithfulness of her daughter-in-law through whose lineage appeared the King of Kings. Ruth, in her loss, trusted in the God of Naomi, who became her own, and through her all nations were blessed, as promised to Abraham by God generations prior. Boaz was faithful and true. All are qualities we should be pleased to emulate
Hope is found in Him and Him alone. No matter our struggles, our suffering, we can be assured that our God is Sovereign, that He is perfecting us, refining us, through our trials.
And not only that, but we also glory in tribulations, knowing that tribulation produces perseverance; and perseverance, character; and character, hope. Now hope does not disappoint, because the love of God has been poured out in our hearts by the Holy Spirit who was given to us.
Romans 5:3-5
I thoroughly enjoyed reading through I Am Ruth. The photography is phenomenal and the text exceptional for understanding the time and circumstances of the life of Ruth. The entire book is captivating and in my opinion, I have not seen its equal. For those who enjoy reading biblical history this is one I would not pass up.
The message of Ruth is vitally important even today. Through our tribulations, God is there every step of the way, orchestrating the events of our lives, conforming us to His image, and purifying our character. Hope is not a fanciful feeling, but a realization of what is to come because He has told us. We can trust Him to finish the work He began in us. He will bring us to completion in Him. In Him we are loved and redeemed. This is the message of Ruth.
I Am Ruth is a beautiful account of the story of Ruth and I wholeheartedly recommend it. I would love to see other events of biblical history written in the same way. This is a book to be consumed time and time again, to be passed on, and to be savored. It will not disappoint.
Enter below to win a copy of I Am Ruth: A Story of Loss, Love & Redemption.
This contest is now over. Congratulations to Sadie B!
I was provided a copy of I Am Ruth: A Story of Loss, Love & Redemption for review. All opinions are my own.
No purchase necessary. Open to US residents, void where prohibited.
Giveaway begins 07/14/13 and ends 07/22/13. One copy of I Am Ruth: A Story of Loss, Love & Redemption will be given away. Approximate retail value is $17.99. Book will be mailed to winner directly from the publisher. Winner will be chosen randomly, by Rafflecopter, within 24 hours of the close of the giveaway. The winner's name will be listed on the giveaway post and notified via email within 48 hours of the close of the giveaway.
If the winner fails to respond by 07/26/13, then another winner will be chosen.