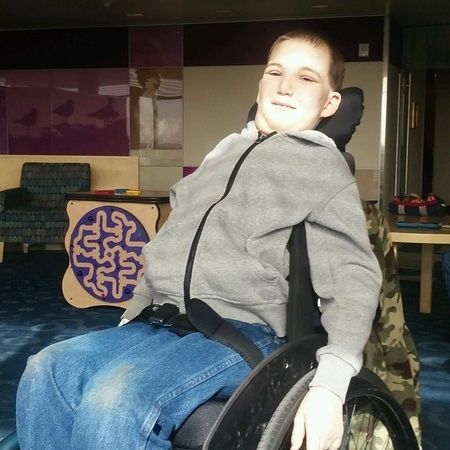 Joshua Caleb and the Sovereignty of God: You will often hear me speak of both. The former is my 13-year-old son who has an intellectual disability and a host of medical problems including a rare disorder called neurodegeneration with brain iron accumulation that is terminal. I previously wrote about him here.
The sovereignty of God! What do we mean by this expression? We mean the supremacy of God, the kingship of God, the Godhood of God. To say that God is sovereign is to declare that God is God. To say that God is sovereign is to declare that He is the highest, doing according to His will in the army of heaven, and among the inhabitants of the earth, so that no one can stay His hand or say unto Him, What doest Thou? (Dan. 4:35). To say that God is sovereign is to declare that He is the Almighty, the Possessor of all power in heaven and earth, so that none can defeat His counsels, thwart His purposes, or resist His will (Ps. 115:3). To say that God is sovereign is to declare that He is "The Governor among the nations" (Ps. 22:28), setting up kingdoms, overthrowing empires, and determining the course of dynasties as pleaseth Him best. To say that God is sovereign is to declare that He is the "Only Potentate, the Kings of kings, and Lord of lords" (1 Tim. 6:15). Such is the God of the Bible.
These words are excerpted from A. W. Pink's book on The Sovereignty of God. His work and the Puritans before him speak often on the sovereignty of God in all things. To understand his sovereignty is to know God aright. And it is this knowledge of the nature of God that gives way to my hope and trust in a beautiful Savior.
The past few years we have watched Joshua, who has had global delays since he was an infant, progressively lose function. Although he was a toe-walker, he was still able to run, albeit off balance, and play with his brothers and sister. This was a mere two years ago. Now he is either confined to a wheelchair or crawls to get around. Last year, to correct a 90-degree curvature of his lower spine, he underwent a spinal fusion. A few weeks later he battled a MSSA infection.
We have become accustomed to the changes occurring in Joshua's condition. The first few days of each incident is difficult but then God gives us the peace and strength we need to get through it. He has a laundry list of diagnoses now including enlarged heart valves. He now has to see a cardiologist every six months.
A typical day for Joshua begins early. As soon as light drifts into his room, he's out of bed. In the summer this means before 6 a.m.! He is fed via g-tube five times a day because the dystonia has wrecked havoc on his ability to swallow safely. This also puts him at great risk for aspiration pneumonia. Because he cannot stand or walk most days, he has to wear pull-ups and be changed several times a day. And with a 4-year-old mentality, he is constantly getting into trouble. He and my 5-year-old are the best of buds! Double trouble!
Because the dystonia has also attacked his vocal cords, it has become increasingly difficult to understand him. We are still waiting for his augmentative device to come in. There's no worse feeling than hearing your child cry and scream because the pain has become too unbearable because he wasn't able to communicate.
Some may wonder why God would allow a child to suffer. It must be understood that we live in a fallen world under a curse and that one day everything will be set aright. Everything that comes to pass is because God ordains it. He has a morally good reason and according to Romans 8:28, all things work together for the good of those who love Him, to the called according to His purpose. We must also set our eye on eternity. Our present suffering is nothing compared to the coming glory. Christ died for us while we were dead in our sins! He is good, holy, and just. His love for his elect is unfathomable. Because God is God, I can trust that one day Joshua will be made whole and He will wipe away his tears for the very last time.
Now I saw a new heaven and a new earth, for the first heaven and the first earth, had passed away. Also, there was no more sea. Then I, John, saw the holy city, New Jerusalem, coming down out of heaven from God, prepared as a bride adorned for her husband. And I heard a loud voice from heaven saying, "Behold, the tabernacle of God is with men, and He will dwell with them, and they shall be His people. God, Himself will be with them and be their God. And God will wipe away every tear from their eyes; there shall be no more death, nor sorrow, nor crying. There shall be no more pain, for the former things have passed away."
Then He who sat on the throne said, "Behold, I make all things new." And He said to me, "Write, for these words are true and faithful."
These beautiful words are from Revelation 21:1-5. I keep them locked away in my heart and reflect on them often. When Joshua has a difficult day, which is common lately, I dwell on them and rejoice it its truth. I don't deny that some days are hard and I break down. But God is faithful and true. He empties me just to fill me up again. I can honestly say that I am more blessed in my affliction than I'd be without it. I yearn to know and love Christ more deeply.
What Joshua is going through is a reflection of a sin-rent world but despite it, God is doing great things in his life, in our lives, and in the lives of those around him. God breaks what is broken and ugly and fashions it into an everlasting and beautiful vessel. To trust God in the most difficult times is to love Him. To obey His commandments, to be anxious for nothing and to pray about everything when your world is crashing down around you is to love Him. It's not easy. But we are called to be faithful because God is sovereign. A bruised reed He will not break. A smoking flax He will not quench. He will never let us down because He is faithful and true, even when we are not.
Joshua is the perfect picture of the sovereignty of God. He is broken but blessed and God is writing an elegant story with a perfect ending that will never end. I can trust in the promises of God. And every time I see Joshua smile, I am reminded again that God's love for me will never be extinguished.