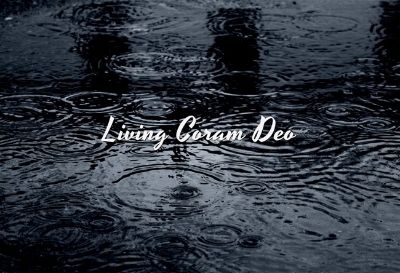 To live coram Deo is to live in the presence of God, under the authority of God, and to the glory of God. Given that only nine percent of all professing Christians hold to a distinctly biblical worldview, we must examine ourselves against Scripture and take inventory of all our presuppositions and commitments. Do we live our lives in terms of God's law-word or do we import humanistic philosophies into our understanding of reality? Do we confess with our lips, "Jesus is Lord," yet deny Him with our lives?
Living coram Deo is intentional, purposeful, and with the full realization that our Sovereign God is our Judge, our Lawmaker, and our King. He is our ultimate and final authority. All power, glory, and honor belong to Him and to Him alone. Our lives must be lived in submission to Him and His revealed will. He is not our savior if He is not our Lord. There is no room for neutrality here. Either He is the determiner of our lives or man is. To be double minded is to dwell in the city of man, under its authority and shackles but expecting the love and mercy of the King of Kings, from whom the unredeemed are alienated.
To love God is to know God as He has revealed himself. To love God is to love His law, meditating on it day and night, living out our lives in accordance with His law-word regardless of the opinions of autonomous man. To love God is to love those made in the image of God, great and small, weak and mighty, and to love the imago Dei enough to speak the truth in love even midst the scorn and mockery of unbelievers.
Whatever man may stand, whatever he may do, to whatever he may apply his hand – in agriculture, in commerce, and in industry, or his mind, in the world of art, and science – he is, in whatsoever it may be, constantly standing before the face of God. He is employed in the service of his God. He has strictly to obey his God. And above all, he has to aim at the glory of his God.

Abraham Kuyper
To live coram Deo is to be consumed with serving Him, His glory our highest aim. Our lives a muddy reflection of the One True God, but a reflection nonetheless. Every breath, every thought, every desire in accord with His sovereignty and grace. His beauty and majesty pervading the course of our lives. He must be our purpose and end all. No other affection will suffice.
Do we truly believe this? Do our lives reflect love and honor for our glorious King? Have we betrayed His grace and mercy by giving Him the crumbs of our existence? The Sovereign God of the universe commands your everything, not your scraps! Our daily lives should be lived in devotion to the very One we owe our breath. There is not one square inch in this universe in which He does not cry, "Mine!" As Christ-bearers, we must give Him his due!
Jesus said unto him, Thou shalt love the Lord thy God with all thy heart, and with all thy soul, and with all thy mind.
Matthew 22:37
We are to love in word and deed, not by mere emotions. Love is a not a simplistic feel good emotional high. It is a commitment to our Beloved. It is searching the depths and riches of His person to know Him as He has revealed Himself through the Scriptures. A God of love and grace, yea, but also a God of holiness and justice. Love is knowing your Affection intimately and without reserve. He has not left it to us to determine for ourselves Who He is, for He has declared Himself El Shaddai, God Almighty.
Living coram Deo, we must learn to apply our faith to all of life, refusing to separate and compartmentalize our faith. To equip ourselves for this task we must take it upon ourselves to immerse our hearts and minds in Scripture, throwing off the chains of humanistic presuppositions and philosophies, and rooting out our deeply ingrained beliefs contrary to the Word of God.
Are you ready to live coram Deo?