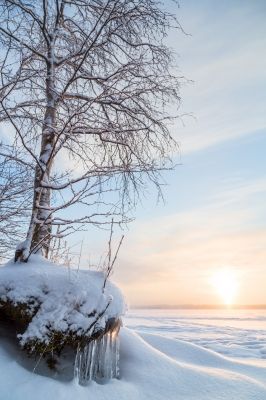 The steadfast love of the Lord never ceases;
his mercies never come to an end;
they are new every morning;
great is your faithfulness.
The Lord is my portion," says my soul,
"therefore I will hope in him."

Lamentations 3:22-23

If God's mercies are new every morning, how much more so the beginning of each new year. Looking back, I could lament the tumultuous and heart-wrenching days of the past. When weeping consumed many of my hours or when I spent precious time on my knees crying out to God, pleading with Him for strength and grace.
Yet what are my lamentations but praises for a sovereign God, who at every point has led me out of the darkness and placed my weary feet on high places? I cannot find fault with a God, who, every morning without fail, has washed me anew in His grace, filled me with a daily portion of His strength, and bid me continue on.
Though I started out, feeble as a newborn fawn, the journey has strengthened me. With every affliction, through every storm, I am being conformed to His likeness. My faith, once a shallow and dry well, He has deepened and filled with life-giving water.
His love has never ceased. Never. Even in my darkest days, when I could neither see nor feel the light, I trusted in Him. And that is the crux of faith. To know and trust Christ in the darkness. To place your life and soul into the hands of the Sovereign God.
It's not easy getting to this point. And in fact, from time to time I waver. When I take my focus off of Him and find myself engrossed in darkness, crying out in panic as a small child. But He doesn't waver. His faithfulness is great. And once again He leads me to a place of quiet rest, safe in His bosom.
The Lord is my shepherd; I shall not want.
He makes me lie down in green pastures.
He leads me beside still waters.

He restores my soul.
He leads me in paths of righteousness
for his name's sake.


Even though I walk through the valley of the shadow of death,
I will fear no evil,
for you are with me;
your rod and your staff,
they comfort me.

You prepare a table before me
in the presence of my enemies;
you anoint my head with oil;
my cup overflows.

Surely goodness and mercy shall follow me
all the days of my life,
and I shall dwell in the house of the Lord
forever.

Psalm 23
No, I don't lament suffering but rather, I rejoice in it. Not suffering in itself for it is unnatural and a consequence of the fall. No, suffering is a blessing primarily because Christ makes all things new. Something broken beyond human repair can and will be fashioned into a beautiful new creation for purposes known only to the sovereign God who works and wills in redemptive history.
It's a new year and a new day. I smile because I know who holds them in His hands. Regardless of the circumstances that might befall me, I know He walks alongside me and sees the journey from beginning to end. Nothing will take Him by suprise or stay His hand. He has taken me, a sinful, broken creature, and washed and restored me. How can I look upon Him with anything but love?
His love, His faithfulness is great. His mercies, unending. I pray that this year, I'll be increasingly conformed to His likeness and through my life He will be glorified all the more. If darkness and tempests befall me I pray for continued grace and strength. My one hope for this new year: that I be made new every morning.
~ ~ ~ ~ ~ ~ ~ ~ ~ ~

Photo courtesty of Tuomas_Lehtinen at FreeDigitalPhotos.net