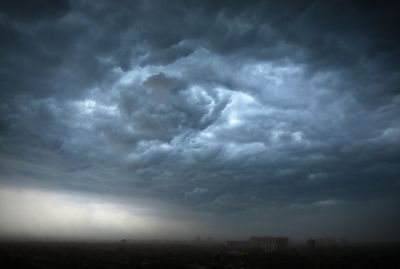 And we know that for those who love God all things work together for good, for those who are called according to his purpose.
Romans 8:28
When I wrote Praise You in This Storm not even a week ago I had no idea that God would yet again test me. My youngest son, Josiah, will be 15-months-old later this week. For several months now I have become concerned with the protrusion on the right side of his head. A few months ago I took him to be examined by the neurosurgeon at Denver Children's Hospital. I was told that yes, his head was on the large side but not to worry because he'll probably just have a big head all his life. Quite normal. I was asked to come back to have his head remeasured in 6 to 8 weeks just to make sure. Yesterday I returned and gave the doctor an update on my son's irritability the past month. Josiah will have episodes of screaming for long periods of time. The doctor still reassured me he probably just has a big head but to be on the safe side they'll order a short MRI (The latest head measurement deviated off the path of the curve and that is why the neurosurgeons decided on the scan). After a quick lunch there at the hospital we headed over to have his MRI and then back to the doctor's office. At this time I was bracing myself for the best—that I was just a typically concerned mother and there was nothing to be worried about.
But I was wrong. The doctor gave me a long, sympathetic look as he sat down and proceeded to tell me that it was a good thing we had the MRI done. Three out of the four ventricles in his brain were enlarged and swollen. This will most likely require surgery in the near future. In two months the neurosurgeons want to have a full MRI done to determine a course of action. In the meantime I am to take Josiah to see an ophthalmologist to check his eyes in order to make sure there is nothing serious going on which will require immediate surgery. And of course if his condition worsens I am to return to the neurosurgeon's office right away. Not the news I was expecting. Even the neurosurgeon wasn't expecting this.
It hasn't been confirmed officially but it looks to be that Josiah, like his big brother, has hydrocephalus. The news pierced my heart as only a mother feels when her child is hurting. However, as I have learned over my lifetime, our God is Sovereign. I have learned to praise Him in the storm. With every struggle and trial, I am learning to fully lean on Him. Not merely by saying I will trust in Him, but trusting Him with every fiber of my being. All things, not merely some things, work together for the good of those who love Him. Everything that happens happens because He wills it. Because it serves His purposes. I cannot even begin to understand His purpose in all of this–why my children have had to go through so much. A new friend has told me that if I knew the purpose behind all of this, I would not trust Him so. The unknown moves me to faith, to a deeper trust. It is one thing to say God is sovereign but another thing to truly believe it. This means acknowledging that God is Sovereign over suffering, death, sin, and evil.
"Whatsoever happens in time is but the outworking of His eternal decrees—'for Whom are all things' (Heb. 2:10). God is behind the scenes, ordering everything for His own glory; …God not only directs the rise and fall of empires, but also rules the fall of a sparrow. …What a haven of rest is this—to know that 'of Him, and through Him, and to Him, are all things; to whom be the glory forever' (Rom. 11:36)"
– A.W. Pink "Gleanings in Exodus" p. 18 (Moody Press)

Like Job I am learning to say:
"Naked I came from my mother's womb, and naked shall I return. The Lord gave, and the Lord has taken away; blessed be the name of the Lord."
Job 1:21
I will praise Him because He is worthy. He has blessed me immeasurably. He has bestowed upon me grace and mercy. Every breath is a gift. Every circumstance is a chance to trust on His promises and to know Him more fully. As He breaks me, I rejoice because I know He is remaking me into His image.
When I asked for patience, He gave me children with strong wills. When I asked for compassion, He gave me children with special needs. When I asked to know Him, He broke me down into nothingness. To God be the glory.
I ask for your prayers for strength for our family and for wisdom for the neurosurgeons as they assess Josiah's situation.
Though the fig tree should not blossom,
nor fruit be on the vines,
the produce of the olive fail
and the fields yield no food,
the flock be cut off from the fold
and there be no herd in the stalls,
yet I will rejoice in the LORD;
I will take joy in the God of my salvation.
GOD, the Lord, is my strength;
he makes my feet like the deer's;
he makes me tread on my high places.
Habakkuk 3:17-19
~~~~~~~~~~~~~~~~~~~~~~~~
Image courtesy of FreeDigitalPhotos.net