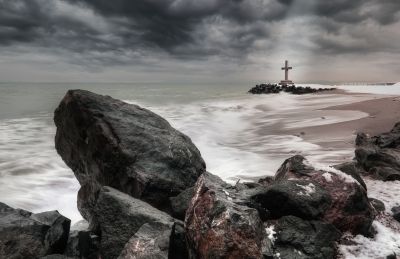 As the hard frosts in winter bring on the flowers in the spring, and as the night ushers in the morning-star, so the evils of affliction produce much good to those that love God.
Thomas Watson
As I was driving my son, Joshua, to yet another appointment at Denver Children's Hospital, Chris Rice's rendition of It is Well with My Soul was playing. This song especially touched me and reminded me that through every trial, every affliction, God is not only there, He is using these most difficult times to bring about such blessing. God's grace abounds in every season and even more so in the midst of our storms. His blessings are bountiful and manifold. There is providence in the tempest, and a beautiful and most gracious mercy.
Several poisonous ingredients put together, being tempered by the skill of the apothecary, make a sovereign medicine, and work together for the good of the patient. So all God's providences, being divinely tempered and sanctified, work together for the best to the saints. He who loves God and is called according to His purpose, may rest assured that every thing in the world shall be for his good.
Thomas Watson
When we have nothing left, we have Everything
The weight of our burdens oftentimes vexes our souls to the point of despair. We have come to the end of our strength, barely able to withstand the constant onslaught, our legs buckling under us. The simplest act of breathing, it seems, becomes a mountain impossible to climb. To what end do we ascribe this as blessing? Beloved, when you have nothing left, you have Everything! Christ empties us of ourselves and causes us to cry out in complete dependence on Him. He is not the crutch to our lives, He is the legs we stand on, the wings we soar with. If Christ be everything to us, He must empty ourselves of all pretensions.  A fuller, deeper reliance on our sovereign GOD is indeed a great blessing.
And He said to me,

"My grace is sufficient for you, for My strength is made perfect in weakness."

Therefore most gladly I will rather boast in my infirmities, that the power of Christ may rest upon me.
2 Corinthians 12:9
Afflictions Conform Us to the Image of Christ
Thomas Watson wrote that "God's rod is a pencil to draw Christ's image more lively upon us." Afflictions are the tender mercies of our God, who through His Spirit, works in us to conform us to the image of Christ. This is oftentimes a difficult process for us to bear as we tenaciously grasp onto and balk at our deepest, most ingrained sins, that Christ in His loving mercy, brings into the light. This I know all too well as I have struggled mightily with the sins of pride and selfishness. The scum has surfaced, oh blessed fire!
Few Christians see themselves and understand themselves rightfully. By trials, God reveals much of a man's sinful self to his pious self. When the fire is put under the pot, then the scum appears.
Thomas Brooks
It is not an easy thing to see the scum of our lives appear, but it is a necessary chastisement and works to our sanctification. Many sins lay hidden but as the storms come, it boils over. Beloved, take this as blessing and mercy! He is working in you to cleanse you of all impurities.
Behold, I have refined thee, bot not with silver; I have chosen thee in the furnace of afflication.
Isaiah 48:10
In addition to revealing our most secret sins, God teaches us in our afflictions. In love, He teaches us to loathe and die to sin, to live for and lift up Christ, and to live for the long tomorrow and the coming glory that awaits the weary traveler. Our hearts, our mind, our souls are being conformed to Christ. He causes us to love Him more, to trust Him more, to please Him more. To fear Him more, to cleave to His side, to wait on Him more. He bids us walk with Him. Oh how the wounds of a friend are sent in love!
The Winds of the Tempest Declare His Glory
All of creation groans under the weight of sin, awaiting the consummation of all things when Christ puts everything aright. Our tears, our weaknesses, our afflictions bear witness to the gospel of Jesus Christ, to His grace and mercy, and to His ultimate sacrifice. Our sins are nailed to the cursed tree, not in part but in whole! Beloved, do you see hope in your suffering? Do you see that God, in His providence, has given you the perfect opportunity to declare the glory of God, to bring the Good News to a dark and dying world? Let not your troubles keep you from sharing the gospel at every opportunity. You have hope and purpose in suffering. Proclaim it and give glory to the God who upholds you.
In the Storms His Saints will Gather
Tribulation is the glue of the saints. Our journey toward the long tomorrow is arduous but we are never meant to travel alone. The difficulties in life will bring about the community of God's people. We rejoice and cry together, bearing one another's burdens. Together we will weather the storm, proclaiming the goodness of God, declaring His sovereignty, and building up His Kingdom. As we endure we are able to come alongside those who are struggling, taking upon ourselves their burdens, walking the road as one. In the tempest God has provided a great community of saints. This is love, to love one another as ourselves. To love as God has loved us. In everything, giving thanks for the providence of God.
There is providence in the tempests. There is hope and there is purpose. To the most gracious and majestic God, who in His sovereignty, mercy, and grace, has delivered me unto the tempests, I will gladly rejoice and be thankful for His beautiful gift of affliction. Thank you LORD, for your love, for your chastening rod, for your blessing. To the LORD who gives and takes away, blessed be Your Name!
~ ~ ~ ~ ~ ~ ~ ~ ~ ~
~~~~~~~~~~~~~~~~~~~~~~~~
Image courtesy of FreeDigitalPhotos.net
Fellowship Friday @ Christian Mommy Blogger