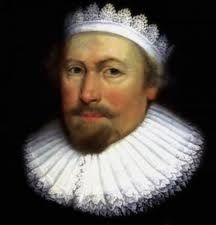 What It Is To Be Bruised
The bruised reed is a man who for the most part is in some misery, just as those were who came to Christ for help, and by misery he is brought to see sin as its cause, for, whatever pretences sin makes, they come to an end when we are bruised and broken. He is sensible of his sin and misery, even to his bruising; and, seeing no help in himself, he is carried with restless desire to have supplies from another, with some hope, which raises him a little out of himself toward Christ, though he dare not claim to have gained any present interest of mercy. This spark of hope being opposed by doubts and fears rising from his corruption makes him like smoking flax; so that both these together, a bruised reed and smoking flax, make up the state of a poor distressed man. This is such a person as our Savior Christ terms "poor in spirit" (Matt. 5:3), who sees his wants, and also sees himself indebted to divine justice. He has no means of supply from himself or the creature, and thereupon he mourns, and, upon some hope of mercy from the promise, and examples of those that have obtained mercy, he is stirred to hunger and thirst after it.
The Good Effects Of Bruising
This bruising is required before conversion so that the Spirit may make way for himself into the heart by levelling all proud, high thoughts, and so that we may understand ourselves to be what indeed we are by nature. We love to wander from ourselves and to be strangers at home, till God bruises us by one cross or other, and then we "begin to think", and come home to ourselves with the prodigal son (Luke 15:17). It is a very hard thing to bring a dull and evasive heart to cry with feeling for mercy. Our hearts, like criminals, never cry for the mercy of the judge until they are beaten from all evasions.
Again, this bruising makes us set a high price upon Christ. Then the gospel becomes the gospel indeed; then the fig leaves of morality will do us no good. And it makes us more thankful and, from our thankfulness, it makes us more fruitful in our lives; for what makes many so cold and barren except that bruising for their sin never endeared God's grace to them?
Likewise this dealing of God establishes us more in his ways, having had knocks and bruises in our own ways. This is often the cause of relapses and apostasy, because men never smarted from sin at the start; they were not under the lash of the law long enough. Hence this inferior work of the Spirit in bringing down high thoughts (2Cor. 10:5) is necessary before our conversion. And, for the most part, the Holy Spirit, in order to further the work of conviction, joins with it some affliction which, when sanctified, has a healing and purging power.
After conversion we need bruising so that reeds may know themselves to be reeds, and not oaks. Even reeds need bruising, because of the remainder of pride in our nature, and to let us see that we live by mercy. Such bruising may help weaker Christians not to be too discouraged when they see stronger ones shaken and bruised. Thus Peter was bruised when he wept bitterly (Matt. 26:75). This reed, till he met with this bruise, had more wind in him than pith when he said, "Though all forsake you, I will not" (Matt. 26:33). The people of God cannot be without these examples. The heroic deeds of those great worthies do not comfort the church so much as their falls and bruises do. Thus David was bruised until he came to a free confession, without guile of spirit (Psa. 32:3 5); indeed, his sorrows increased in his own feeling to the exquisite pain of breaking bones (Psa. 51:8). Thus Hezekiah complains that God had "broken his bones" like a lion (Isa. 38:13). Thus the chosen vessel Paul needed the messenger of Satan to buffet him lest he should be lifted up above measure (2Cor. 12:7).
Hence we learn that we must not pass too harsh judgment upon ourselves or others when God exercises us with bruising upon bruising. There must be a conformity to our head, Christ, who "was bruised for us" (Isa. 53:5) so that we may know how much we are bound to him.
Ungodly spirits, ignorant of God's ways in bringing his children to heaven, censure broken-hearted Christians as miserable persons, whereas God is in fact doing a gracious, good work with them. It is no easy matter to bring a man from nature to grace, and from grace to glory, our hearts being so unyielding and intractable.
From The Bruised Reed by Richard Sibbes