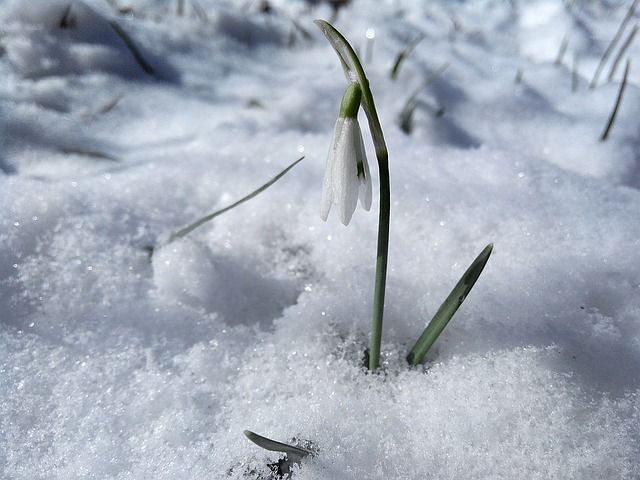 If believers decay in their first love, or in some other grace, yet another grace may grow and increase, such as humility, their broken-heartedness; they sometimes seem not to grow in the branches when they may grow at the root; upon a check grace breaks out more; as we say, after a hard winter there usually follows a glorious spring.

—Richard Sibbes
I'm writing this post to pour out my heart and confess my unfaithfulness. To those whom I've neglected and to Christ my first love, who is my everything. What sin decays my heart? It is the failure to nurture a living faith. With the ongoing tempests of my life, my faith has bedded down for the winter.
This winter is a long one, enduring the length of a year many times over. The edges of my heart harden in its frost, breaking off in the bitterly cold winds. I'm the perennial who has refused to wake in spring's thaw. Over the last few weeks, the words of James 2:14-17 have cut me to the quick:
What does it profit, my brethren, if someone says he has faith but does not have works? Can faith save him? If a brother or sister is naked and destitute of daily food, and one of you says to them, "Depart in peace, be warmed and filled," but you do not give them the things which are needed for the body, what does it profit? Thus also faith by itself, if it does not have works, is dead.
I speak often on the sovereignty of God and quote the Scriptures and Puritans in my posts. From time to time I pray for someone else when requested or send a small gift. Yet my faith is weak. I examine myself against the law-word of God and see little fruit. How can I bear any when my faith had laid dormant for far too long?
That I and my family endure affliction after affliction should not negate my responsibility to God and to my neighbor. What do I have to fear if my roots are strong? If I am rooted not in my own ability but in Christ. He sees me as I am, branches broken and withered and fruit spoiled by winter's frost. He will prune. Sometimes with the tools of affliction. Sometimes in tenderness. But always by the Spirit. He prunes yet I still slumber, sleeping under a blanket of indifference.
As many of you have approached the throne of grace on my behalf, the fragrance of your prayers reaching up to our Sovereign God, my pitiful words are stagnant in comparison. They roll off my tongue bitter and unfeeling. Your words of encouragement rarely returned. Your gifts of service and time, barely acknowledged. Your love, unmet.
It is even so with my first love. The dust has gathered on the law-word of Christ. Where my tongue should sing praises, it is mute. Where my life should be a living testament to His glory, it is silent and hidden.
A season of trials should not bury the love of Christ. Rather, faith should flow forth, giving more than is received. As I've pondered the words of James I've become convicted that obedience is no respecter of circumstances. Faith flourishes in affliction, not despite it. It's not in what I give, but the expression of my devotion and the strength of my faith that matters.
It's so easy to pull into myself and shut myself off from the world. To pretend I'm taking refuge from the tempests and that I'll emerge all the stronger once the storm passes. But I've been fooling myself. There's no better time than the present to have a presence. Presence in the lives of my family, my friends, and those in the world who desperately need Christ.
To all of you, I ask your forgiveness, for my indifference and the fruitlessness of a slumbering faith. I pray that in the time God gives me I will seek to nurture relationships and to shine a light in this world of darkness. To leave a legacy where Christ is glorified. To love through my hands and to build up and encourage through my words.

Christ's grace reaches deep into my roots and a spring of life wells up and breaks through the dead, hardened ground. Though I've slumbered His Spirit moves within me and prepares me for a living faith. A growing faith. One that dances with the tempests and glorifies Him in the love and service of my neighbor.
May a glorious spring follow.
~ ~ ~ ~ ~ ~ ~ ~ ~ ~

Photo courtesy of Maxim Weise at FreeDigitalPhotos.net