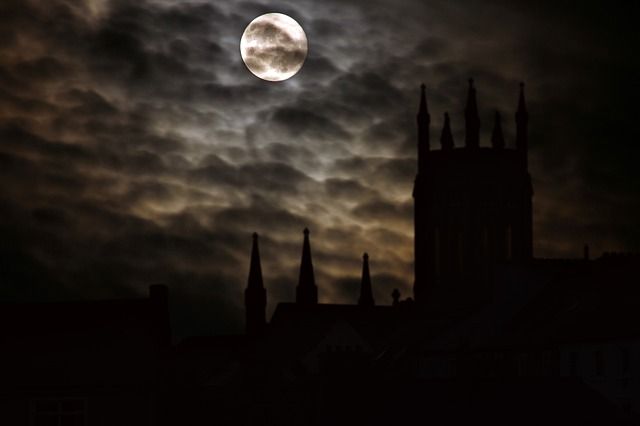 The Kingdom of Darkness is a facade. It is no kingdom at all. I implore you, dear reader, to look on with renewed vision, a gift given by the grace of our Sovereign LORD and King of Kings!
This kingdom lies in ruins, each brick cast down by man's own hand, its mortar crumbling under the weight of judgment and truth. Its cities, a desolate remnant of haughty ambition, a vague remembrance of its inhabitants' declaration to be as god! To what shelter have they fled as that Day approaches? Only the stronghold of their own ruin! The dead wander among the dead!
Has the darkness veiled your sight? Do you see the Kingdom of Darkness as towering and imposing? Are its walls high and impenetrable? Do its inhabitants strike fear down to the marrow of your bones? Are its cities wealthy and prosperous?
Nay, the King of Kings and Lord of Lords has laid waste to it. The foundations of His everlasting kingdom have been established. The faithful build the cities of Christendom, not with might and power, but with obedience and dedication to the glory of God. This daily undertaking is both exhausting and fruitful. Christ is the rock that fills the whole earth. His people, the light that shines upon the hill.
The princes of the world and the wicked will perish as the flower in the heat of the sun. Their riches and power will be for naught. As He who sits on the eternal throne laughs, the nations rage in vain. Who are you, Christ-bearers, to cower in the presence of the enemies of God?! He who goes before you will cut down your enemies. His Kingdom is established forever!
Set your eyes on Him, He who refines your faith. In your presence will His enemies be scattered. Let the faithful be gathered at the throne of grace, walking in the ways of His ordinances with joyful exuberance.
See how His light reaches the edges of darkness, how it flees. It cannot stand. The Kingdom of Darkness is a facade, its leader a traitorous usurper. Beloved reader, do not be duped by false appearances. The Light has come and the darkness cannot withstand it. Therefore, be patient in affliction, faithful in prayer, and prepared with the fullness of the armor of God. Christ goes before you victorious. His Kingdom stands.
~ ~ ~ ~ ~ ~ ~ ~ ~ ~
Photo courtesy of NeuPaddy at Pixaby